Planning Your Project
Construction
Our cabinets are all wood cabinets with solid wood door and face frame, sturdy 1/2″ plywood sides and bottoms.
Shelves are 5/8″ thick.
---
Wood
Effects of Moisture on Wood
Moisture naturally affects the expansion and contraction of wood. Wood is hygroscopic, that is it gains and loses water to match its environment. Armstrong uses kiln dried wood processed to 8 – 12% moisture content, which is an industry standard. The buy methenolone acetate at uk material is then finished and sealed. The process does not yield a hermetically sealed product; therefore, subjecting the product to different humidity conditions may lead to expansion or contraction of the product. Subjecting doors to humidity levels lower than 30% or higher than 60%, may affect each door differently.
We suggests an acclimatization period for your cabinets. The process consists only of living in your home under normal HVAC conditions for 30 to 60 days. This allows the elevated moisture from the new or remodeling construction process to normalize. Do not try to fix the doors until after the acclimatization period. If after 60 days under normal living conditions, your cabinetry does not properly settle, please contact your dealer, builder, or remodeler.
Warp is the bending or twisting of a part. To measure a door, lay the product on a flat surface and measure the gap from the surface to the part. The standard allowable tolerance for wood is 1/16" per lineal foot. Material that fall within specification are considered acceptable, as part of the natural characteristics of wood.
---
Finish Process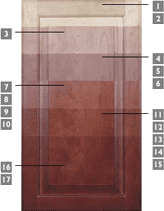 All surfaces are machine and hand sanded
All dust particles are mechanically removed
Pre-Stains are applied evenly to provide base color uniformity
Specially formulated stain is hand sprayed
Surfaces are hand wiped or brushed with a soft china bristle brush.
Stained products undergo a slow drying process
Chemical resistant sealer is applied
Sealed products are baked to ensure a complete cure throughout
Sealed surfaces are hand sanded with ultra fine sandpaper
Products are quality inspected for cleanliness and smoothness
Catalyzed Varnish is applied
Varnished products are pre-cured
Products are then placed into high velocity ovens
Surfaces are once again sanded with ultra fine grit sandpaper
Final sanding dust is removed
Second coat of Catalyzed Varnish is applied
Final topcoat is pre-cured, followed by a slow bake
---
Installation
Types of Cabinets:
Base Cabinets
BBC Offset
Lazy Susan Base Cabinets and DBC3612
Wall Cabinets
WDC